BREAKING NEWS: War in Israel, 3,000+ Rockets
ISRAEL IS AT WAR.
These are the worst attacks I have ever seen in 9 years of living here.

3,500+ rockets fired at us.

250 Israelis dead and 1,450+ wounded.

Many Israelis have been taken hostage as thousands of Hamas terrorists have stormed across the border into Southern Israel. It is truly terrifying.

Many of our friends are being mobilized right now for IDF reserve duty as a massive war is being planned against Hamas.

Please Pray!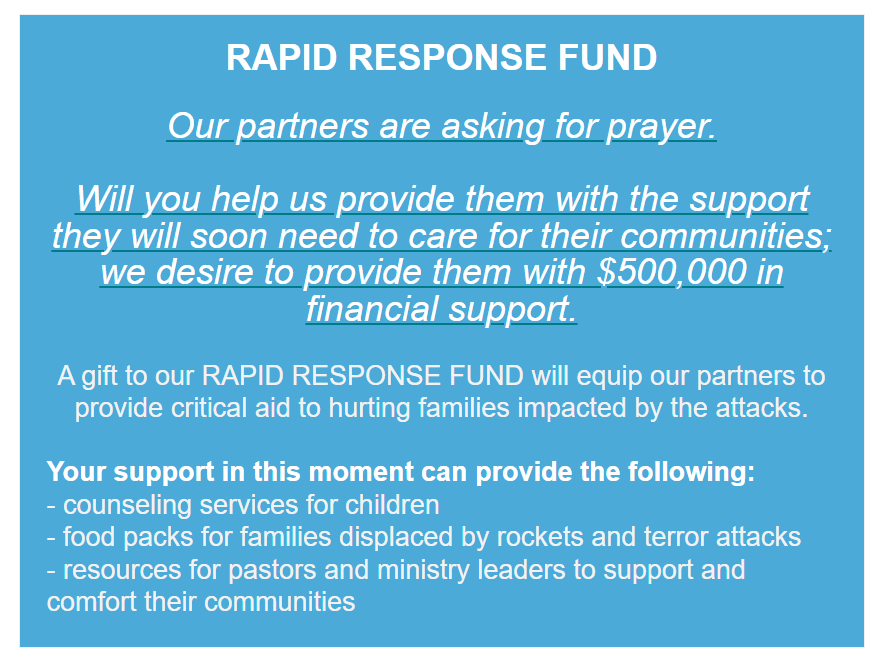 The conflict has escalated rapidly, with Hamas, an armed group operating out of the Gaza Strip, launching over 3,000 rockets into Israel, resulting in widespread turmoil.

The rocket attacks have citizens seeking refuge in bomb shelters and their homes.

The conflict has taken a sinister turn with reports of Israelis being abducted and taken to Gaza.

Reports indicate that at least 6-7 towns and kibbutzim (neighborhood communities) have been overrun by Hamas terrorists, plunging these communities into chaos and violence.

The BBC has reported several first-hand accounts of Israelis seeking help through social media and calling news outlets. What they are sharing is heartbreaking.

"Urgent, urgent, please help this get to the media," Ella Mor wrote on Facebook. "We need to save my nephews who are in hiding. They called to say that they shot their mum and dad and they're dead in Kfar Aza. They can't find the baby girl."

We're hearing similar devastating reports from our partners.

"For the first time of our life here, in Sderot, we heard "Allah Akbar" yelling and shots of automatic weapons outside. Our kids were in a panic as we sat in the shelter room. After 15-20 minutes, I received horrible photos of the terrorists driving and walking down our streets, shooting at people, cars, and the windows of residential buildings."

"On our street, literally meters away from our building, the bus stopped to let people out so they could run to the shelter. Unfortunately, the pickup truck with Hamas terrorists was passing by at the same time and opened fire. Several people were murdered instantly. The same was happening in other neighborhoods."
GIVE TO THE JOSHUA FUND'S RAPID RESPONSE FUND

Prime Minister Benjamin Netanyahu has declared that Israel is at war and the Israeli Defense Forces (IDF) has initiated the mobilization of reservists.

This reminds many of what happened 50 years ago during the Yom Kippur War. Such scenes have not been experienced in Israel since that time in October 1973. People all over Israel are leaving their families and heading to war.

Please join us in covering these URGENT PRAYER POINTS:
People locked down in their bomb shelters. A partner has told us they are seeking safety in the stairwell of their building.
The uncertainty of hostage situations in multiple locations in southern Israel.
The intense fear and anxiety caused by the attacks and proximity of terrorists. One partner communicated their spouse had a panic attack.
The children who have lost family members and are traumatized by what's going on around them.
Bedouins living in tent villages outside cities that have no shelters to go to. Our partners, who serve the Bedouins in Arad, have reported one Bedouin family's four-year-old son has died in the bombings.
The continuing rocket attacks and possible northern attack, or from Judea Samaria incursion. Reports from border of trouble.
Maintained peace between Jewish and Arab Israelis.

Your prayers and support make a difference. Consider contributing to the RAPID RESPONSE FUND to aid devastated families in Israel.

Together, we can stand with Israel during this challenging time.

Thank you for your compassion and generosity!

Give to The Joshua Fund RAPID RESPONSE FUND to help reach our goal of $500,000 in critical aid for families under attack.
GIVE TO THE JOSHUA FUND'S RAPID RESPONSE FUND